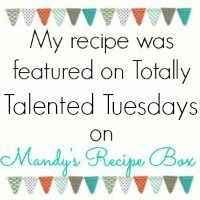 I've really been working hard at this blogging thing lately. And sometimes it hurts my head. The people that rock at this are amazing because they are creative thinkers, graphic designers, crafters, researchers, photographers, and awesome multi-taskers because they are mothers and wives too!
One of my very dear friends has an incredible food blog called Mandy's Recipe Box. She lives out here in the booneyswith me and is a farmer's wife herself! She has been my go to girl to learn some of the ins and outs of the blog-o-sphere.
She has invited me to her weekly link up parties where tons of bloggers put up some of their favorite posts on her site. Its a great way to meet other bloggers and share your own content. Last week one of my posts was featured as a favorite. Yahoo!
If you get a chance, go check out Mandy and her stellar recipes. You won't be sorry!